Today, I just got 2 new book sets in the mail:
The Complete Calvin & Hobbes
&
The Complete Far Side.
For years, I've been going ga-ga over Bill Watterson's strip
Calvin & Hobbes
. Besides the fact that the comic is hilariously funny, the drawings themselves are absolutely & astoundingly gorgeous. Each
Calvin & Hobbes
strip was painstakingly & beautifully inked by Watterson himself, unlike most of the comics seen in the funny papers today (comics such as
Garfield
quickly come to mind). Besides this & comics like
Mutts
&
Zits
, all newspaper comics nowadays look like garbage. Period.
The set comes with three volumes of each & every comic strip (both dailies & Sundays) & book cover illustrations spanning the course of the entire history of
Calvin & Hobbes
, from 1985 to 1995. Enough transmogrifying tales, "Welcome Home" tiger pounces, 6-year old daydreams, high-speed wagon crashes & Spaceman Spiff adventures to make your eyes & mouth water with ecstasy.
The comic is not only funny, but heartwarming & charming as well. Many of the strips also contain moral lessons, messages, observations & social commentary on life, death, religion, culture, the environment, the media & politics.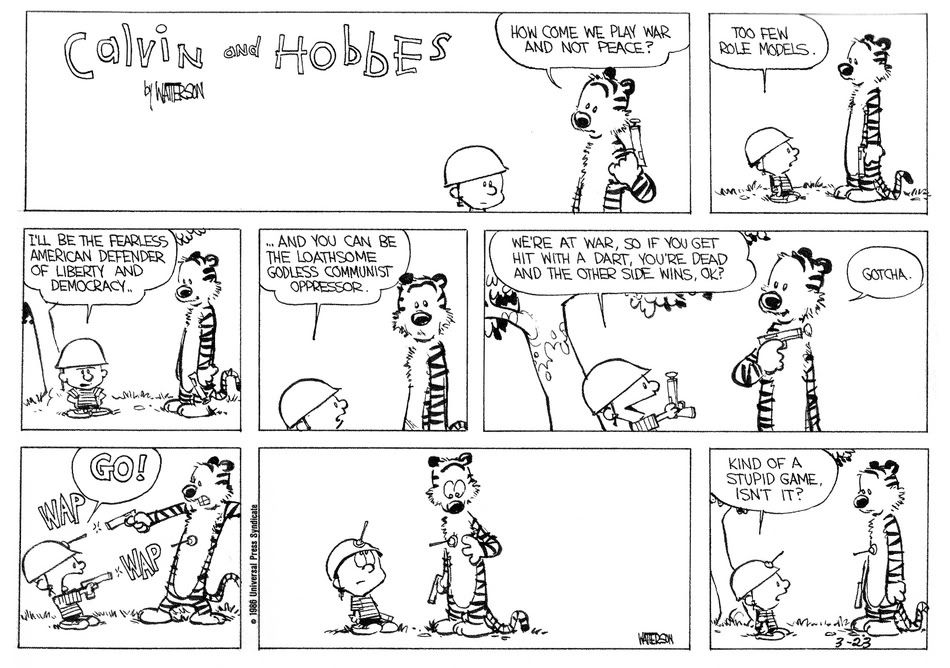 This is probably the last great comic to ever hit the press. If you are a fan of Calvin & Hobbes or great comic illustration in general, you gotta buy this collection before they're gone. They're already starting to become hard to find. It may be a little pricey, but it's worth it.
Besides Calvin & Hobbes, Far Side is the only other comic that actually makes me laugh out loud. Although the drawings themselves are somewhat simple & crude, each comic is pure gold. Gary Larson is a complete & utter genius (paleontologists now classify a stegosaurus' tail spikes as a "thagomizer", named after the joke in this comic below:)
"Now this end is called the thagomizer, after the late Thag Simmons."
Every single one of Larson's stabs at religion, science, nature & history spanning the course of the comic's life from 1980 to 1995 are included in this set. Like the Calvin & Hobbes set, this set is somewhat pricey & is getting harder & harder to find, but you definitely should consider picking this set up.
So many cows!